October 11, 2013
Dear Friend of Idaho State University,
Last week, I joined thousands of others in the Idaho State University community celebrating homecoming week. With the theme, "50 Years of Celebrating U," in addition to honoring 50 years as a four-year institution, this year's homecoming celebration was about much more.
Bengal pride is growing in our community, and it shows in the work we do. I am proud to be a part of it all. Being a Bengal is more than simply attending classes or athletic events. Our fellow Bengals are students who work hard to gain the skills they need to make a difference in the world. Our fellow Bengals are the faculty and staff who teach and help them; they spend countless hours contributing to the cultural, scientific and social knowledge in the world. Our fellow Bengals are alumni who walked across the stage at Commencement ceremonies and went on not only to change the world, but to share the good news about Idaho State University with their families, friends and co-workers. Our fellow Bengals are community members who take every opportunity to support Idaho State University with their time, talents and gifts.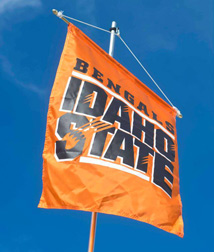 This year, as we do every year during homecoming week, we honored the thousands of Bengals who made our institution a better place of learning and discovery. We honored our faculty past and present, who helped guide students while continuing to learn and make new discoveries with world-class research. We honored our students, who make a difference today, in the classroom and through research and service around the world. We honored our alumni, who left Idaho State University and went on to make great discoveries, lead corporations and make a difference in the lives of others. We honored our friends, who have given support to our students, faculty and staff through their generous gifts of time and resources.
It was a fun week, with dinners, parties, a parade and a football game. I was delighted to see members of the community, students, alumni, faculty and staff join in the fun.
Homecoming week was, as always, a wonderful week of celebration and friendship. I hope you were able to attend the festivities. If not, take a look at our Homecoming videos or a wonderful gallery of photos. I hope to see you next year. I encourage you to visit campus any time. There are wonderful things happening here every day.
Go Bengals!
Arthur C. Vailas, Ph.D.
President, Idaho State University
president@isu.edu